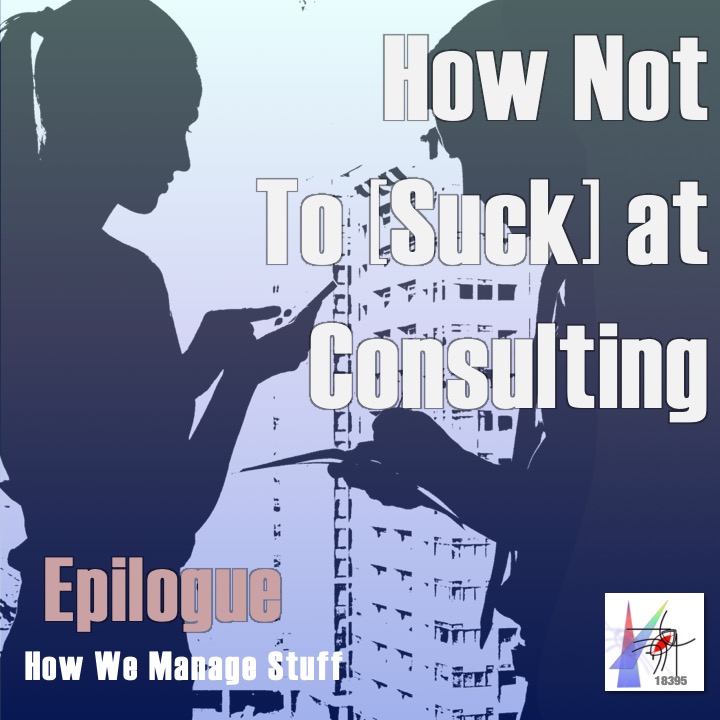 The end.
It's never quite what you expect.
In part, it's really a beginning, though the beginning may not include you.
So we get only a hint of how the story will progress.  A family has been reconciled.  One troublesome employee has moved to the competition.  Another is still in the offices.
We have installed a new tech system but the benefits of that system are not obvious.  Not in revenue.  Not yet.
And so the series ends with the consulting team returning to their homes.  the client starting a new life, and How We Manage Stuff ready to progress to a new story.
The last part of our story on technology consulting.
Cast:
Kit, Director of Consulting – Kit Kuksenok
Evelyn, the Business Manager – Margaux Amie

 

Anna the Intern – Sarah Corbyn Woolf
Arndt, Rohit –  Noah Masur
Klara, Florian's Niece – Sahara Ale
Florian Bohne  – Josh LaForce
Peter, Fritz-Bernard – Ron Bianchi
Sonja Pfeiffer, Ida – Debbon Ayer
Vinny – Geoffrey Grier
Victor of BKL, Max  –

Jake Minevich

Leena, Florian's other Niece – Zoe Anastassiou 
[18395]
Podcast: Play in new window | Download
Subscribe: Apple Podcasts | Android | RSS