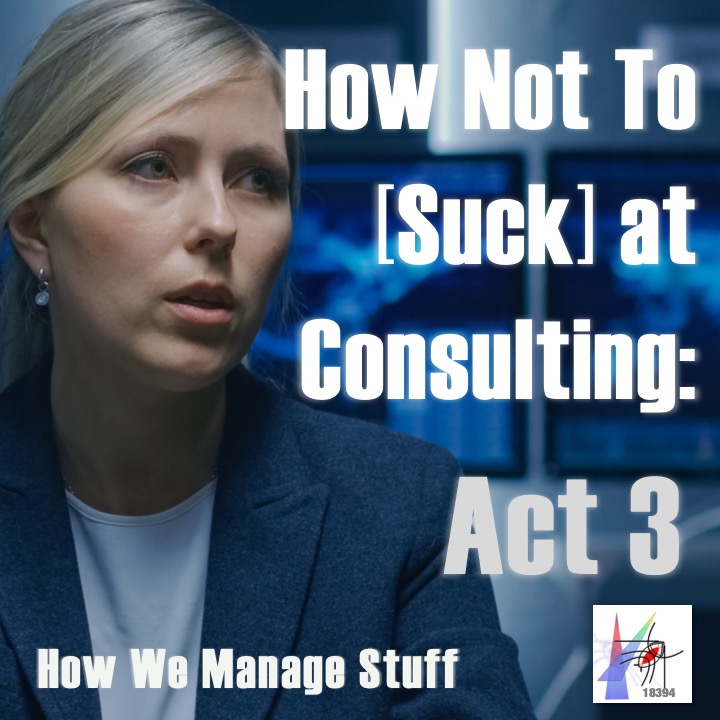 A bad decision.
A confrontational meeting.
Perhaps the worst first date ever, though one participant (and perhaps both) will deny that it was, is, or should ever be considered a date.
A niece coming from a conference on Electronic Dance Music.
Consulting gets tricky when you set it in context. You've done the plans. You know the requirements. You're ready to start writing your report. And yet, you continue to find things that you don't understand.
Consulting is about control – or at least determining what you can control and trying to find a way that you can ignore the rest.
And what is the proper business dress for a rising music producer?
The third act of our story on technology consulting.
Cast:
Kit, Director of Consulting – Kit Kuksenok
Evelyn, the Business Manager – Margaux Amie

Anna the Intern – Sarah Corbyn Woolf
Arndt, Rohit – Noah Masur
Klara, Florian's Niece – Sahara Ale
Florian Bohne – Josh LaForce
Peter, Fritz-Bernard – Ron Bianchi
Sonja Pfeiffer, Ida – Debbon Ayer
Vinny – Geoffrey Grier
Victor of BKL, Max –

Jake Minevich

Leena, Florian's other Niece – Zoe Anastassiou
[18394]
Podcast: Play in new window | Download
Subscribe: Apple Podcasts | Android | RSS