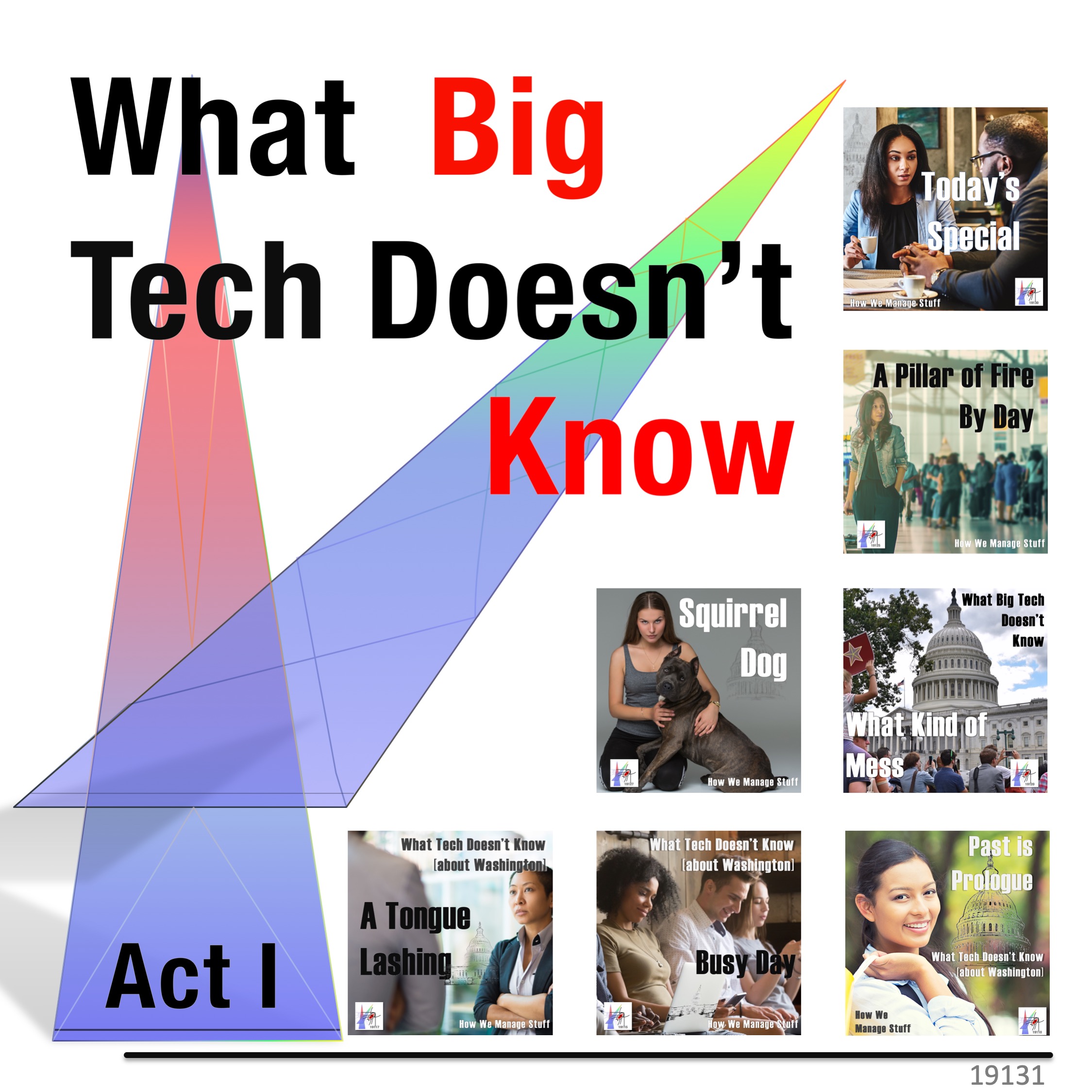 Strangers in a Strange Land.
Abby Alton and Ed Kowalski, the leaders of the Internet Giant Talking & Shopping, have come to Washington like castaways on a distant shore.  
They know that they have to build better relationships with the National Government.  
They have no idea how to do it.  None at all. 
And so they have hired consultants, the boutique group How We Manage Stuff, to help them in their perilous task.  Along the way they meet bureaucrats in love with their own voice, Congressional Aides in with political gossip, and interns in love with the mere image of leadership.  
So begins our tale.  The first seven episodes of the Audio Drama "What Big Tech Doesn't Know."
Cast:
Sahara Ale – Yasmin, Attorney-Advisor
Margaux Amie – Rachel D'Fino, aide to Senator Stassen; Senator Christine Stassen; Evelyne of T&S
Zoe Anastassiou – Faith of Beva's Place; Waiter; Female Aide
Debbon Ayer – Abby Alton, CEO of T&S
Ron Bianchi – The Ancient One; Waiter; Bashir, the Uber Driver
Geoffrey Grier – Fitz Morris of NTIA; Vinny of HWMS
Kit Kusenok – Ed Kowalski, CTO of T&S
Josh LaForce – Sulley Bowman, Director HWMS Washington Office
Noah Masur – Buckley Williams of Federation for Digital Future; Male Aide
Jake Minevich – Victor Numerov of T&S; Chad Dockerly of Technica Publica
Skippy – Maggy, the Fury
Sarah Corbyn Woolf – Anna, once an Intern
[19131]
Podcast: Play in new window | Download
Subscribe: Apple Podcasts | Android | RSS